ARCHIVE MIST (2016)
Archive Mist employs images from the American Red Cross archive held at the Library of Congress, which I edited and re-archived the content to focus on the Armenian experience shown in the pictures. Reproduced on archival paper the images are re-painted with black and white acrylics. My interventions draw inspiration from my grandfather's past who was separated from his Armenian family at the age of five living thereafter at a Red Cross orphanage. The prints are printed on Hahnemühlepaper and are of variable sizes.
EXHIBITION
STILL SEARCHING
BENAKI MUSEUM | ATHENS, GREECE
14 June - 30 July 2017
Athens Photo Festival 2017
Under the motto "We Speak Photography", Photo Voices is designed as a set of 7 short talks to share thought provoking images and words, allowing audience to explore the ideas and stories behind this year's theme and beyond. On Tuesday 27 June, 2017 at the Benaki Museum (Pireos St. Annexe) I gave a talk on my artwork Archive Mist.
Find out more at: https://www.photofestival.gr/portfolio/armenoui-kasparian-saraidari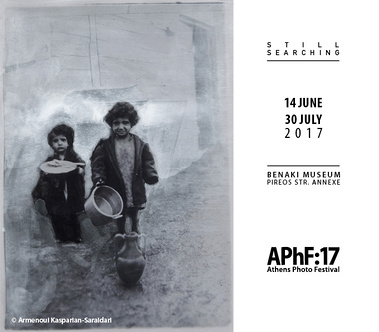 DISPLAY
ARCHIVE MIST
WINDOW GALLERY | CENTRAL SAINT MARTINS, LONDON, UK.
19 June - 25 June 2018
A display of doctoral projects of Central Saint Martins recent Scholars at the Windows Gallery at the building at Kings Cross.